http://www.ascensionrealestateappraisers.com/ – Ascension FHA Appraisers Report: High End Homes Remain Oversupplied With Median Sales Prices Declining.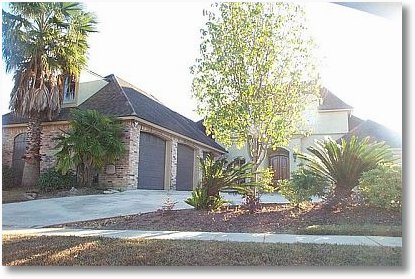 Despite the consecutive rounds of positive economic news for the Greater Baton Rouge Economy, the Northern Ascension Parish Housing Market is still oversupplied and has been for quite some time now. As the chart clearly shows, the median sales price continues to decline as well.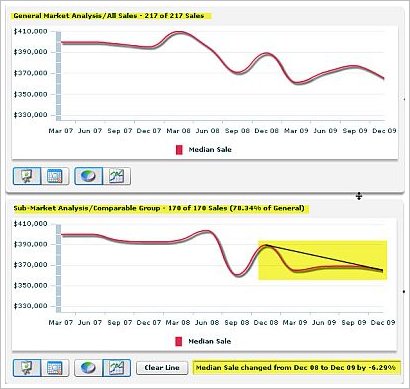 During the late 2005 to 2007 new home construction boom, many new, very expensive homes were constructed within the northern section of the Parish. Because builders could make a decent profit on high-end homes and because, at that time, high-end homes were selling fairly well, these are the homes that were built with an excess of subdivision lots being developed. The problem was that there's only so many buyers in the Greater Baton Rouge that can afford to pay $375,000 to $600,000 for a home. $73,000 to $83,900 lots in the once Upscale Acadiana of Ascension Subdivision, where the 2009 Dream Home was built, recently sold in bulk to Vicknair Builders for $34,000 to $53,900 per lot, an approximate -36% decline (a 49 lot package). It's clear now that this market was far overpriced. Easy money and low mortgage interest rates also spawn the excesses during this period.
The above charting and report of oversupply was obtained while working on a pre-foreclosure assignment within this Market, on a 3 year old 3,000sf home in an upscale development off Bluff Road. The search parameters were 1/2007 to present, 2700sf to 3500sf, New to 6-10 Year Old homes. The Median Sales Price Percentage Decline Since 12/2008 has been -6.29%. Within my appraisal report, based on both MLS Listings and FBSOBR.com Listings, I noted a whopping "43" month supply of competing housing on the market, 66 competing listings and a 92% to 94% Listing-To-Sales Price Ratio. And, of the 2 listing comps I used, one of them has been listed since 2/2008 without selling. Of the 3 solds used as comps, these were on the market for 576, 299 and 298 days. A slower economy, excess supply of existing and new homes, excess supply of high priced lots, less demand and very, very HIGH pricing is believed to be the reason for this current situation.