https://www.batonrougerealestateappraisal.com// – Baton Rouge Real Estate: Will Credit Suisse Report of $1 trillion worth of ARMs still face resets impact local housing market?
Credit Suisse is reporting that there may be up to $1 Trillion worth of Adjustable Rate Mortgage still to reset into 2012. Their report is located here!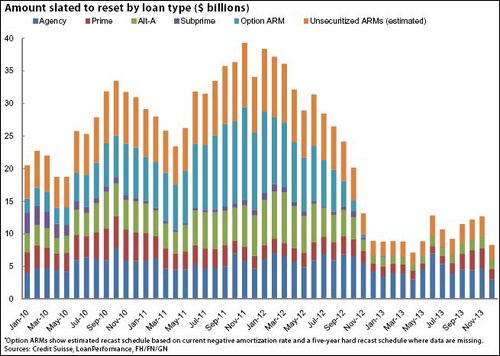 Here's a snippet:
"While several industry observers worry about negative equity and unemployment driving foreclosures, a couple of experts point out that interest rates on mortgages remain a cause for concern.
Credit Suisse made waves in 2007 among housing bears with a chart that estimates the volume of adjustable-rate mortgages to face a reset each month. An updated version of the chart, which was provided to SNL, shows resets remain a worrying force over the next few years.
Most of the resets are expected to occur through 2012. Between 2010 and 2012, the chart indicates that $253.25 billion of option ARMs will adjust, while Alt-A loans totaling $163.71 billion will reset over that time. Altogether, $1.010 trillion worth of ARMs will reset or recast during the three-year period."
Does this chart suggest the best time to buy a home? You be the judge!