https://www.batonrougerealestateappraisal.com// – Baton Rouge Real Estate Photos From The Field: Central Thruway Progress Photos As Of April 10, 2010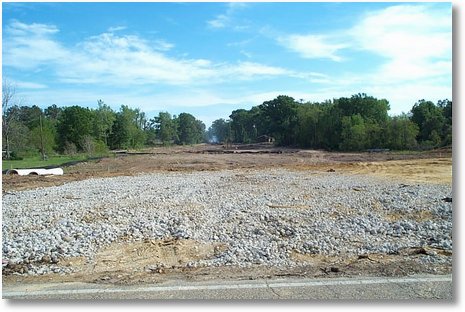 The last major news article I could locate on the Central Thruway project was on May 20, 2009 from The Advocate here! A snippet of the article stated:
"The work order was issued on Monday marking the start of a $9.6 million project to construct two large bridges for the Central Thruway, a city-parish official said.
The contract calls for contractor James Construction Group to build bridges over the railroad bridge and over Sullivan Bayou along the thruway route, city-parish Chief Construction Engineer Jose Alvarez said.
James Construction will have 600 days to complete the two bridges, Alvarez said.
City-parish officials are slated to hold a groundbreaking today for the project.
Another company, L&A Contracting, started work last year on the $23.8 million project to build bridges over Comite River and Beaver Bayou in that same area between Frenchtown Road and Florida Boulevard."