http://www.zacharylouisianarealestate.info/ – Zachary La Home Appraiser Advice On Buying A Home In Copper Mill Golf Community.
NOTE: The Most Comprehensive Answer I provided is located here: Should You Buy That Zachary Copper Mill Golf Community Home?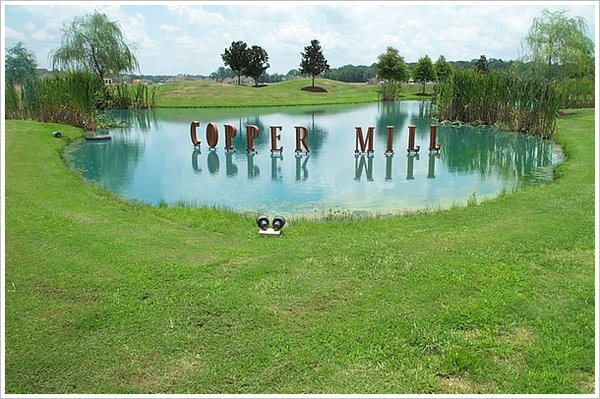 I recently received an email from an out-of-state resident currently renting a home in South Baton Rouge. Here's their question:
"We are looking to buy a home and have looked at Copper Mill in Zachary. From looking at the history of the resale homes that are currently for sale, and the comparables sold recently, it would appear that quite a few of the homes have lost value since being built or purchased. In your opinion, is this a reflection of the current state of the economy and therefore values should come back around as the economy recovers, or is this a reflection of the development itself? We like the area and may look at other neighborhoods, but we just want to be sure we understand what we are seeing in the numbers."
My Answer is below and is based on the fact that buying a highend home is a very serious matter and that once you buy one and have paid too much, it's not easy to get out from under those homes, as some in Copper Mill are finding out, those that paid $160/sf in 2007.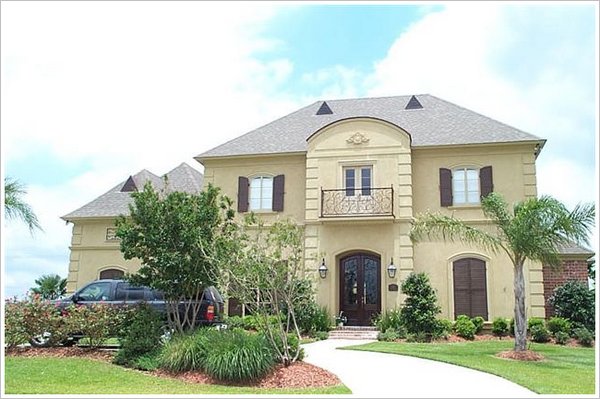 My opinion of Copper Mill is based on market reaction to this development, the obvious decline in values and the extremely long time it takes to sell homes in there. I have relatives that built 3 spec homes to sell in Copper Mill and have their personal experience to speak from as well. They did well on the first 2 but didn't on the 3rd home, which took over 22 months to sell.
I think it has to do with the economy in general, the absolutely insane housing market that Hurricane Katrina created and the fact that it's located in Zachary. Zachary is a fine place to raise a family and has the Top Public school district in the State there. However, it's a small town with little industry or business base. I've often wondered how Zachary became to be what it is today based on all of those that have to commute to and from it without many jobs in the local community there. What I'm trying to say is that housing in Zachary is really high in my opinion for the location and the lack of economic base in Zachary.
POSITIVES IN COPPER MILL. Positives are that the average and median sales prices are at all time highs of $476,500 and marketing time is at 115 days, the lowest in many years. However, this is ONLY based on 2 total sales in 2012.
Copper Mill is a fine development, no doubt. However, those that bought early and financed nearly 100% are upside on their mortgages and will be for many years. Zachary and Copper Mill never were a sustainable $161/sf market and $161/sf was the high back in 2007. It's been downhill ever since then from such lofty heights and I don't expect values to climb that high again in Copper Mill. I attached the current chart showing support in 2012 for $145/sf BUT only based on 2 sales…..and there used to be 19 sales in a year in there.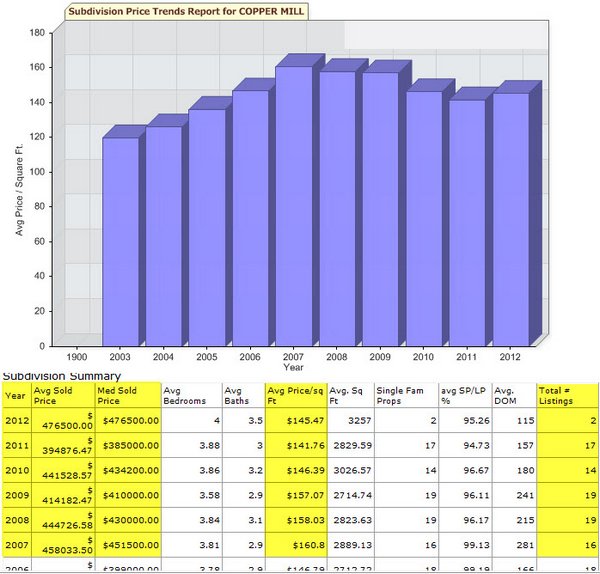 I shot this video here http://www.hdhathomes.com/tours/699_tourb.html for 1595 Royal Troon I think in 2009 and that home is still be on the market, over 1227 days.
I wouldn't buy a home in Copper Mill unless it's at a very discounted price in case prices fall even further in there. In 2011, support was at $141.76/sf, the lowest since before Hurricane Katrina. Or, buy one of the smaller, less pricey homes in there, which should hold it's value better even if there's another correction.
And, now that the Robosigning $25 Billiion lawsuit has been settled, any homes that weren't foreclosed on because of this suit, can now be. I don't know if this will impact any homes in Copper Mill, but it could.
Is 2012 the year of recovery for Copper Mill or do we need to correct our thinking into a new lower reality that $145/sf is a more sane level of pricing for the high end Zachary market? I doubt a full recovery, but we've already witnessed a 4/sf +/- increase so far. I think any recovery will take years to happen and that $141 to $147/sf is a much more realistic pricing level for this market. We know that "Cost Doesn't Equal Market Value" and this has been made very evident in outlying markets such as Zachary and Denham Springs.
MY ADVICE FOR COPPER MILL. My advice would be to scale it down in Copper Mill, just as the newest filing is offering smaller, more affordable high quality homes (smaller lots, smaller homes, same quality). It appears $300,000 to $400,000 is more realistic for Zachary buyers AND the new sign on Main Street now touts homes starting in the $300's. This is also taking place in Lexington Estates in 70810 where it's been difficult to sell high end homes (New Phase is offering more affordable lots with smaller home sizes).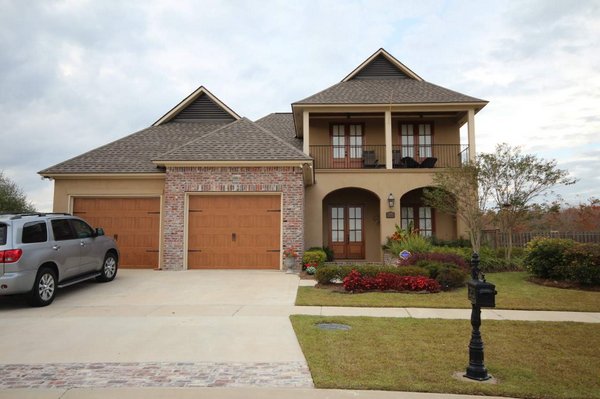 Greater Baton Rouge Housing is still overpriced and I would highly recommend a Pre-Listing Appraisal before your purchase. I generally charge around $275 for these in the over $400K range: http://www.gbrprelistingappraisals.com/
NOTE: Based on information from the Greater Baton Rouge Association of REALTORS®\MLS for the period of January 1, 2006 to April 04, 2012. This information was extracted on 04/04/2012.
Hope this somehow helps you.
Bill Cobb, Appraiser