Baton Rouge Real Estate: Why That Apartment Is Probably Not Counted As Living Area. Why was this home listed in the MLS in early 2012 as having 720sf more than it actually has? Valuable Lesson For Sellers Here! Why Accurate Living Area Matters. In my opinion, REALTORS® have a fiduciary duty to their listing clients to accurately represent their listings in the MLS, accurately state true living area size. Read on to see why.
This week, I was searching for listing comps or listing comparables to use for a Greater Baton Rouge Pre-Listing Home Appraisal. I wanted to show potential seller what other homes in their subdivision were listed for as well as recent sales prices. Subject home was approximately 2,500sf and I came across this home pictured below within 2 blocks of subject, also close in physical age and design. I thought it might be a good listing comp or good information for seller to know about as online data showed it to have close to 2,900sf. I drove by and took my own front photo and something wasn't right. I started digging for information and found out this home was really close to 2,200sf living area with an attached 720sf apartment.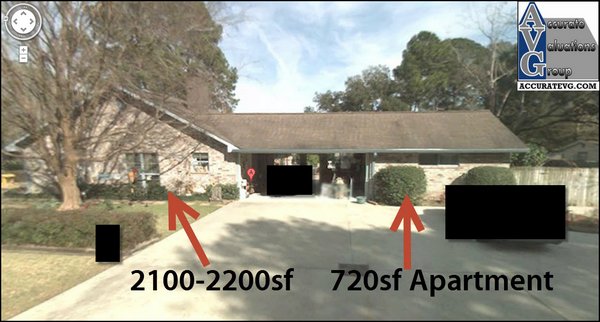 IS THE APARTMENT GROSS LIVING AREA?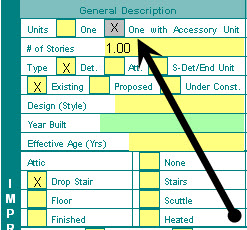 ANSWER: NO. Even Fannie Mae classifies an Apartment as an "Accessory Unit" on the Appraisal Forms.
The sketch below represents the actual layout of this home showing that owner has to walk outside through the carport to access the Apartment. Any time the owner has to walk outside and through a carport, porch, patio or breezeway to access an Apartment or Gameroom or Recreation Room, that Room is not living area per National ANSI Standards. The rule in ANSI that Apartments fail to meet is "Accessible from the Interior" of home. NO, this Apartment is not living area. YES, this Apartment is an "Amenity" and does have some extra value in this market with the aging population and boomers taking care of elderly parents.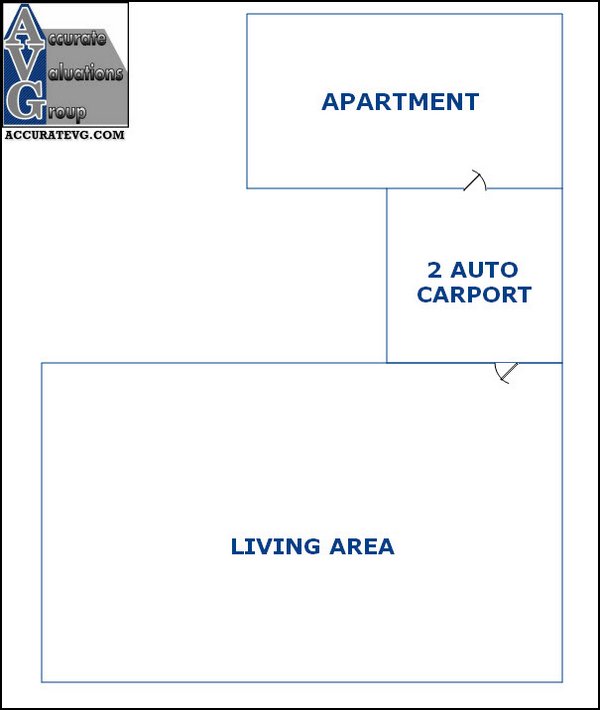 Real Estate Agent Wasn't Knowledgable of National ANSI Standard, What Was and Was Not Living Area. Why?
This home above was listed in early 2012 incorrectly and the Agent failed to accurately state true living area size based on the national standards. Overstating living area size by 720 sq. ft. should never have happened. That listing expired and the new Listing Agent for the new listing got it right this time.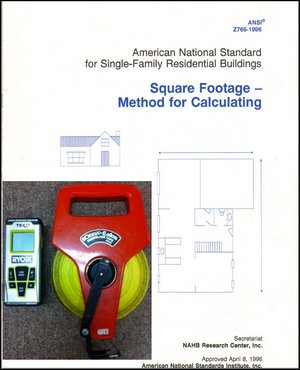 LESSON FOR SELLER: Make certain your home is actually physically measured and accurately measured by a real estate professional that understands and complies with the National ANSI Standards. There is no excuse for your most important investment in your lifetime, your home, not to be professionally measured for the listing, especially when the average selling price in 2012 is near $114/sf. A 100sf error means you potentially lose $11,400.
MAKE SURE YOUR HOME IS PHYSICALLY MEASURED FOR THE LISTING, whether that is by the Listing Agent, their team members or the Appraiser they hire to measure your home. Make sure they arrive with the tools needed to measure your home – measuring tape, or laser measure or in 2012, an iPad with sketching app. If the Agent simply asks you your living area size as verification or goes through the entire listing appointment without measuring your home, then you probably need to be dealing with another Agent.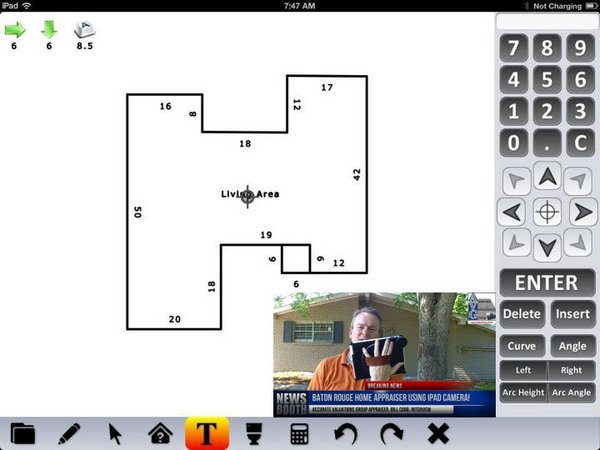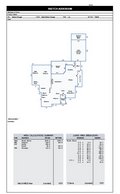 WHY ACCURATE LIVING AREA MATTERS? Because the living area the Agent states is used to price your home. If that living area is smaller than stated, then your home may not appraise for the purchase price and you may need to sell at a price below the purchase agreement based on living area size error. For example, if Agent states your home is 2,000sf and prices it based on 2,000sf, and it's really 1,850sf, then your home possibly won't appraise for purchase price. The problem is that you have your boxes packed and ready to move. You now have to sell for less money and possibly lower your expectation on what home you can buy. Further, if you've already signed a purchase agreement to buy your next home, a lower price for your current home can really complicate matters and possibly have you back out of this purchase agreement on your next home.
YOU DESERVE TO HAVE YOUR HOME PROFESSIONALLY MEASURED!
REMEMBER THAT A 3% TO 6% COMMISION IS $1,000'S OF DOLLARS TO HAVE YOUR HOME PROFESSIONALLY REPRESENTED ON THE MARKET…..YOU DESERVE TO HAVE YOUR HOME ACTUALLY AND PROPERLY MEASURED AND A COPY OF THE SKETCH DELIVERED TO YOU AS VERIFICATION! DO YOU PAY YOUR C.P.A. TO BE JUST IN THE BALLPARK FOR THEIR PROFESSIONAL SERVICES? NO, THE IRS WANTS VERIFIED NUMBERS THAT WILL STAND DURING AN AUDIT. AN APPRAISAL IS JUST LIKE AN AUDIT BASED ON VERIFIED LIVING AREA SIZE. YOU AS THE HOMEOWNER SHOULD NOT COUNT ON GUESSING OF YOUR LIVING AREA SIZE, NOR OF COPYING THE PREVIOUS MLS IN MLS HISTORY FOR YOUR NEW LISTING.
Within the Greater Baton Rouge Association of REALTORS®, ALL Real Estate Agents and Appraisers are required to know ANSI Standards and understand how we as a group count living area from the perimeter measurement. GBRAR even has a mandatory class called, "Standards for Structural Measurement" taught by local Appraiser, Cheryl Bella where they physically measure the "La House" at LSU. It's a hands-on measuring course and is required for Agents to gain access to the local MLS. I also had to go through this class years ago.
NOTE: I am in no way stating that all local Real Estate Agents don't measure homes for listings. There are professional Agents that do or pay to have their listings measured properly. Over the years, I've been hired by dozens of them to do just that. However, based on my 21 years experience as a Home Appraiser, I see it more common now, especially after Hurricane Katrina, that some listings aren't properly measured, living area isn't accurate and/or the previous MLS in MLS history back to 1997 is copied for the new listing. The problem with copying an old listing in MLS is that you as the Agent don't know if the previous Agent accurately represented that home's living area size.
NOTE: I am also in no way attempting to not remain professional by talking about this topic. A homeowner's equity is a valuable thing to them and homes should be measured, period, should be accurately measure for listings, period. REALTORS® have a fiduciary duty to their clients to accurately represent their listings…in my opinion…and I believe now in your opinion. It's your equity, your money, that's on the line here!
Bill Cobb, Appraiser http://www.gbrprelistingappraisals.com/ 225-293-1500