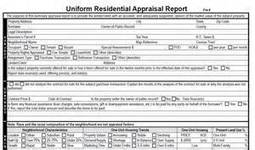 Often client will ask for a property's value. As a Realtor we are not license or trained to appraise real estate. This post explains the difference between
Sourced through Scoop.it from: activerain.com
What's the Difference Between an Appraisal and a Comparable Market Analysis Written by a REALTOR…IMPORTANT CAUTIONARY COMMENTARY BY VETERAN APPRAISER
CAUTION: The newer the Agent, the more caution or reliability of the CMA results could be in question!

NOT "ALL" Agents are created equal and not "ALL" try to pull a fast MLS CMA without making adjustments. Some don't know how to make adjustments, the type of adjustments Home Appraisers will apply.
The article states, "Adjustments are then made for differences in the properties using the subject home as the base and making dollar allowances up or down depending on the variables." In my experience, this is not always the case!
I recently completed an purchase appraisal of a 1,000sf +/- home in some disrepair with only very substandard window unit heat/air, a very old roof priced close to $17/sf above the market, above the comps. It was priced in high $80's. Before the appraisal visit, I requested Listing Agent's "comps" which were up to 225sf LARGER in living area size and all 3 in superior condition to subject. One of 3 "comps", 1 was a renovation flip with an approximate $35,000 update. It turns out these were JUST SALES, NOT "COMPS". Did the Listing Agent make adjustments to these 3 "comps" to fairly price subject? Absolutely Not!

Appraised Over $20,000 Less ALL Because The Listing Agent Pulled a Fast MLS CMA and Didn't Adjust For Obvious Difference!
This deal ended up appraising for over $20,000 below purchase agreement based on 9 Total and actual comparables, 6 sold and 3 current listings. The owner only paid $50,000+/- in 2000's and had done nothing that I could see to adequately maintain the home.
It was located on a very busy corner highway with excessive noise, something the Agent in a CMA failed to adjust for… In my mind and on this specific deal, it was where professional representation, professional and ethical pricing failed the system, seller and home buyer.
http://activerain.com/blogsview/4743439/what-s-the-difference-between-an-appraisal-and-a-comparative-market-analysis#.VfPRDb-B-1k.google_plusone_share