Parkwood Terrace Baker LA Home Prices Report 70714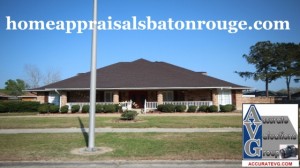 2011-2012 Sales:
4 Sales $70,000 TO $239,500
Median Sales Price: $167,000
Avg Sold Price:$63/sf
Avg SP/LP%:97%
Avg Days On Market: 40 Days
GBRAR MLS NOTE: Based on info from the Greater Baton Rouge Association of REALTORS®\MLS for the period of 01/01/2012 to 04/13/2013. This information was extracted on 04/13/2013.
Music Note: Music in this video is from the free April 2013 audiojungle release don't look back by Damian.
A resource for locals in Greater Baton Rouge to help understand the real estate appraisal process and where it fits into their home valuation. Videos are by veteran Home Appraiser Bill Cobb and Accurate Valuations Group
Tags: Baker LA, 70714, Baker LA Real Estate, Baker LA Housing, Baton Rouge Real Estate, Baton Rouge Homes, Baton Rouge Housing, East Baton Rouge, Greater Baton Rouge, Baton Rouge Realtors, Baton Rouge Real Estate Agents, Baton Rouge Homes For Sale
Baton Rouge Home Appraisers: Antioch Villa Market Statistics 2012
Antioch Villa Development
Antioch Villa was approved by East Baton Rouge Parish Planning and Zoning Commission April 16, 1973 and developed in mid 1970s.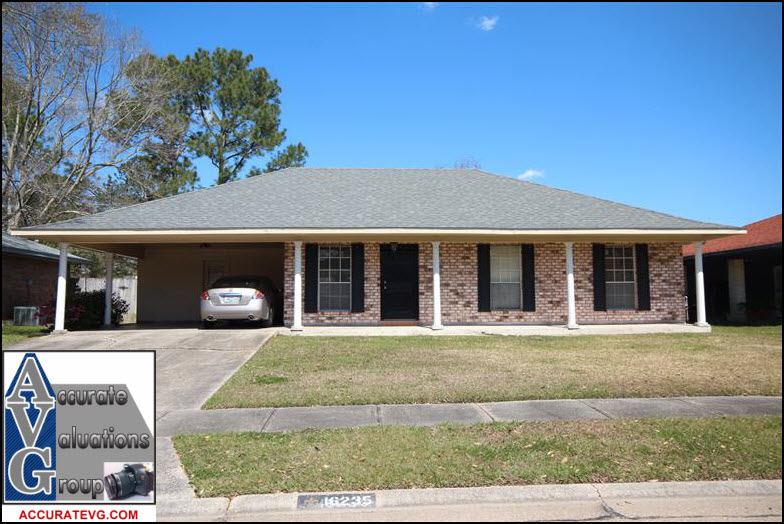 2012 Antioch Villa Housing Market Statistics:
10 sales from $74,000 to $134,000, Median Sales Price $102,450, Average Sold Price $75/sf, Average Listing Price to Sales Price Ratio 94%, 82 Averge Days On Market.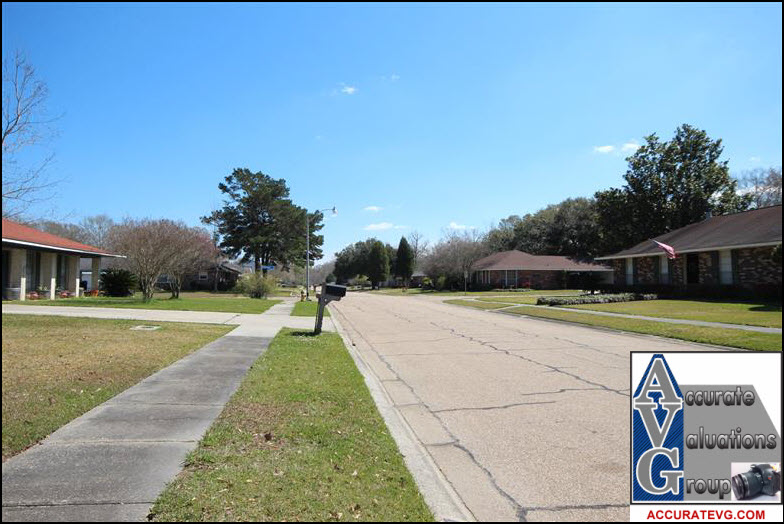 CURRENT GBRMLS ANTIOCH VILLA LISITNGS AND :
4 Total Listings, All 4 Active Listings
16522 Batavia Ave $121,900, $89/sf, 189 Days On Market
7714 Blake Drive $137,000, $100/sf, 491 Days On Market
16022 Batavia Ave $137,500, $101/sf, 124 Days On Market
16215 Morel Ave $139,500, $77/sf, 174 Days On Market
Why are these homes NOT SELLING? Homes in Antioch Villa that sell in the $99/sf are totally updated and these 4 listings above may or may not be totally updated. However, expecting a sales price of $100/sf in this older subdivision is too high of an expectation and is more of an immediate Post Hurricane Katrina expectation and we know there's been a correction since 2005-2007 highs.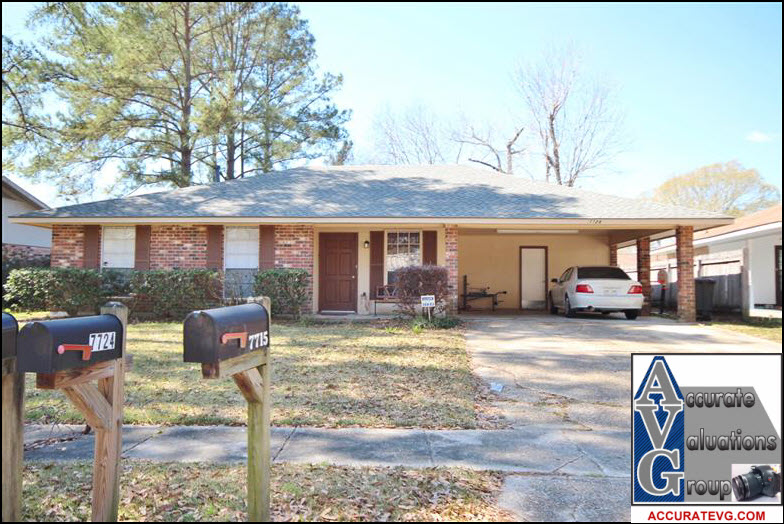 Baton Rouge List Price Home Appraisals
Bill Cobb Home Appraiser Reports On The Baton Rouge Housing Market.
GBRAR MLS NOTE:
Based on info from the Greater Baton Rouge Association of REALTORS®\MLS for the period of 01/01/2012 to 03/06/2013. This information was extracted on 03/06/2013.
I received the following question from a local Real Estate Broker tonight:
THE QUESTION: Why Do Smaller Baton Rouge Homes Sell For More Per Square Foot Than Larger Homes?

I have a client asking a question as to why a home with 1900 sq. ft. doesn't sell for the same price per sqft as one with 2,500 sq. ft. Generally, the smaller homes go with larger price per sq. ft., BUT WHY IS THAT?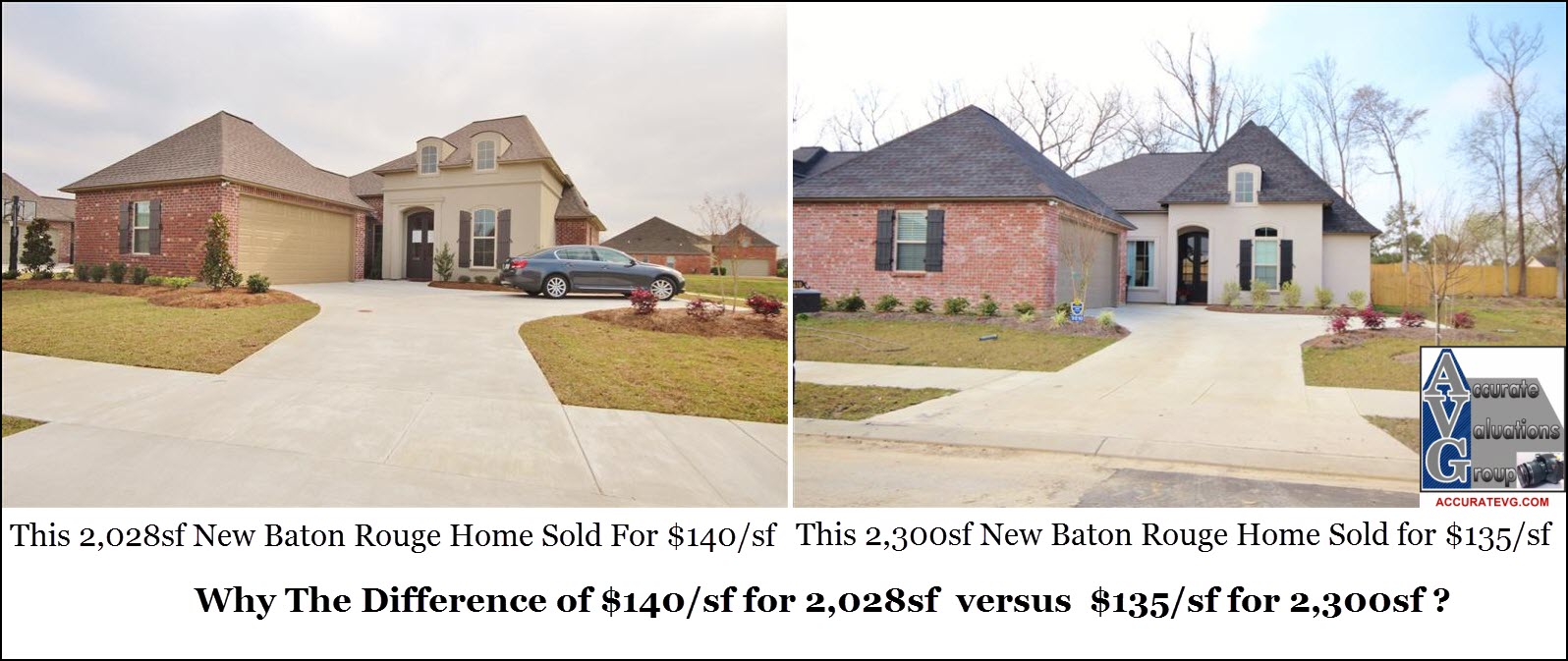 MY ANSWER:
I hope this will shed some light on the why. It has to do with cost basis in that it cost more to build an equal quality smaller home than it does a larger home. I've added some points from 5 resources I found online to best explain this and they are quoted below.
The Cost Per Square Foot Factor
Why do smaller homes sometimes cost more per square foot than larger homes?
Smaller homes start out at a relative disadvantage to larger ones because they often cost more per square foot. That's because every house needs certain high-ticket items, like a heating, air conditioning and ventilation system, at least one bathroom and a kitchen. As a house gets bigger, the incremental cost for these pricey items lessens.
Why Smaller Home Sell More Per Square Foot?

http://appraisersforum.com/showthread.php?p=931236
1.) Beyond the fixed costs cited above are such items as "impact fees", "development fees" and the like. Cities use these to make the ultimate homeowner pay for streets, sewers, sidewalks, additional police and fire personnel and facilities, schools, etc. These are lump sum charges that apply against each lot. So, if you take a 1100 SF house with a $10,000 impact fee, that's an additional $9.09 per foot. A 2000 SF house has an impact fee of $5.00 per foot.
2.) Land value aside….consider this. Most homes of, say, 1000 square feet are one level while larger homes are generally split level or two story. It usually costs less to built up rather than out. All homes have basic systems (heating, ventilation, electrical, and plumbing. Those basic components cost about the same for a smaller home thus contributing to a higher cost per square foot.
3.) I at one time also asked the same question? All the explanations in the previous responses are accurate but one aspect I have always wondered is the profit markup builders apply to new homes. I just walked away from considering a new home development in our Mt Island Lake area as I felt the builder's point price is astronomical even in this hot market (Charlotte, NC). They had two ranch plans I was interested in, one at 1915 sq ft and the other at almost 2400 sq ft. The cost per sq ft went down appreciably with the higher sq ft. Economies of scale no doubt played a role in the sq footage price in materials and labor.
4.) Let me see if I can re-create the explanation from an Appraisal Institute class of several years ago. Let's consider a 3 Bedroom, 2 bath ranch. Both homes will have the same number of plumbing fixtures and upgrades. Your first home is a 1100 SF with a single living area. The expensive items in construction are often your plumbed areas and their fixtures and cabinets, i.e.. Bathrooms and kitchens. Your distributing the cost of these out over a smaller dwelling as a whole. Now, consider your 3 bedroom, 2 bath with 2 living areas (a den and a living room) and stretch the bedrooms out a bit. Take the total living area up to 1600 SF. What have you added to accomplish a larger home? Basically, you've added foundation, carpet, trusses, shingles and drywall. This less expensive addition of living area has lowered your cost per square foot.
5.) Add to that, generally speaking there is a larger pool of potential buyers who can afford smaller homes versus those who can afford larger ones, so the demand tends to drive the price per square foot a little higher. If you are in a typical neighborhood with similar lots and lot values, the lot value is a constant value. Therefore, a smaller home say 1500 SF at $120,000 with a $30,000 lot sold for $150,000 or $100.00 a foot. However, the home next door has a 1,800 SF house at $144,000 with the same $30,000 lot sold for $174,000 or $96.67 per foot.
I thought I would expand on Shane's answer. The reason this does not work is that every area has a price ceiling. Meaning that no matter how big a house is, people will only be willing to pay so much to live in that area. For example: If a 1000 sq ft home sells for $300 per sq ft, or $300,000. This does not mean that a 3,000 sq ft home will sell for $900,000. What you find is that larger homes will almost always sell for less per square foot than a smaller home all other things being equal.
Hopefully this clarifies your questions. Best regards, Eric Soderlund
Just as a large tract of land invariably has a lower price per acre than a small tract of land, a larger home (all things being equal) will usually have a lower price psf than a smaller home. Is this a fact set in stone? No, but I'll bet dollars to donuts if you see two homes of similar finishout quality sitting next to each other on identical lots, where one is 5,000 sf and the other is 3,000 sf, the 5,000 sf home will sell for a substantially reduced price psf.
You have to take the sizes of the comparable homes into consideration when you are trying to establish a value. If you don't make that adjustment, you are probably going to have either a large home which is priced too high or a smaller home which is priced too low. And neither is a good thing for your seller.
Is it true that smaller houses sell for more money?
POINT #1.)
There is a very good reason that smaller homes are higher $/sqft than larger homes.
Larger homes usually have proportionately more "easy to build" space. In other words, a larger percentage of the house is bedroom, dining, and living space, which are cheap to build. The expensive rooms in a house are kitchens and bathrooms. Since every home has a kitchen, having a smaller house doesn't save you as much as you would think. By making the house smaller, you got rid of more of the cheaper space. In other words, just to put some arbitrary numbers out there, a kitchen might cost $1000 a sq. Ft. To build, while a living room might only cost $50 a square foot to build. By making the house smaller, you get rid of a lot more of the $50 than you do of the $1000, making the average higher. Same thing with bathrooms. Also, even if the bathrooms and kitchen get smaller on the smaller house, some things can't be cut out. No matter how small the house, you are still going to have plumbing for sinks and bathtubs, so those become a larger percentage of your cost, which drives up the price/sq.ft.
If there is one house that, as you say, is $500k for 1500 sq.ft (by the way, OUCH!), and another for $500k for 2500 sq.ft., you have to ask #1, why the difference? Better location, more amenities, more upgrades? They aren't comps, but why not? And if there is no substantial difference, then the answer to your question is that the house is clearly overpriced and you should NOT pay that much. But if you are basing "comps" purely on $/sq.ft, you are going about the process incorrectly. Many things factor in. If the house has lots of upgrades and is in a nicer area, it is worth more money, in general. We build houses, and people call us up all the time asking how much per square foot we charge to build a house. We laugh and tell them it doesn't work that way. Depending on what they put in the house, and where, we can build them a 1500 sq.ft house for $130k or we can build them a 1500 sq.ft. House for $500k.
Bill Cobb, Appraiser

Accurate Valuations Group

www.Accuratevg.com

————————-

PERSONAL OFFICE

——————————-
Accurate Valuations Group
Staff: Lisa Cobb
Email: info@accuratevg.com
Landline: 225-293-1500
800: 888-678-3544
Fax: 866-663-6065
Mobile: 225-953-0638
Mailing Address: P.O. Box 40515, Baton Rouge, LA 70835-0515

Why Won't the Baton Rouge Home Appraiser Talk to Me?
QUESTION: WHEN CAN YOU TALK TO THE APPRAISER DURING THE HOME APPRAISAL PROCESS?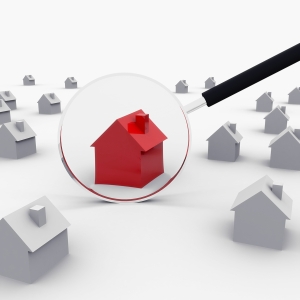 My Appraiser Friends in Austin TX, Orlando Masis and Alison Nicklin Shuman, with Austin TX Appraisal IQ, posted a new video today entitled, "Why Won't the Appraiser Talk to Me?", see their video below, and provided this helpful video description.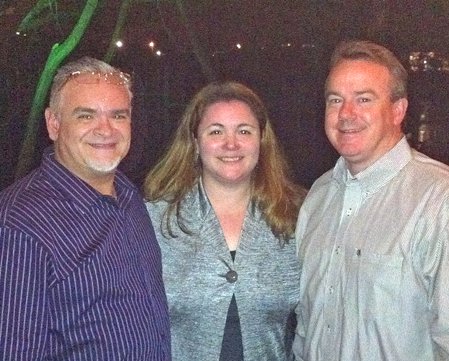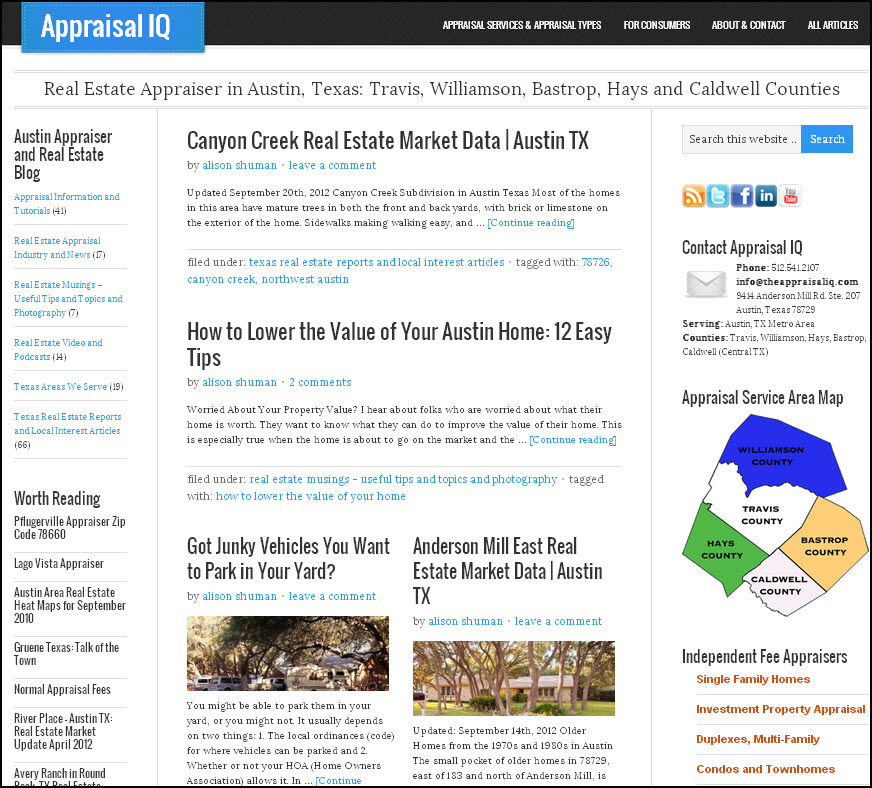 "You had an appraisal done and now the appraiser won't talk to you? Why? The Appraiser-Client relationship dictates that the appraiser can only tak to his client. For most residential real estate appraisals, the appraiser's client is the lender, not the borrower."
QUESTION: WHEN CAN YOU TALK TO THE APPRAISER?
ANSWER: DURING THE INITIAL INSPECTION OF THE HOME
REFINANCE APPRAISAL – YES, you can talk to Appraiser.
If it's a Refinance Appraisal, borrower is normally home and can talk with Appraiser at time of inspection and provide a list of their updates/upgrades at that time to Appraiser. In fact, Fannie Mae wants the borrower to answer if Kitchen and Bathrooms have been updated within the past 15 years. Same 15 yr questions on a purchase appraisal as well.
Here's the actual Fannie Mae Question in the Improvements, Condition section:
"Describe the condition of the property (including needed repairs, deterioration, renovations, remodeling, etc.). Select an overall condition rating of C1 to C6 from the drop-down, then select the level of work completed and timeframe for the bathroom(s) and kitchen(s), then enter a description of the subject property. In order to fill out the Fannie Mae form properly and gain an understanding about the home being appraised, the Appraiser needs to be able to talk to someone knowledgable about the subject property.
One Possible Answer: C3;Kitchen-remodeled-six to ten years ago;Bathrooms-updated-six to ten years ago;Condition: Good. No major repairs or functional inadequacies were noted.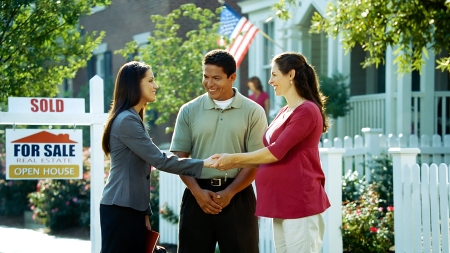 PURCHASE APPRAISAL – YES, you can talk to Appraiser.
If purchase appraisal, both seller and buyer can be at the inspection and talk to with Appraiser. I don't know that there's any rule preventing buyer and their Agent from being present at appraisal inspection time. I've had both buyer and their Agent present in the past, but very rare.
AFTER THE INITIAL APPRAISAL INSPECTION IS WHEN COMMUNICATION ENDS BETWEEN APPRAISER AND BORROWER, SELLER OR RE AGENT.
There is no, "Hey, give me a call if you're coming up short of value and I'll see what comps I can find to support the deal!". There are no fishing expeditions for "comps" after the initial inspection as the Listing Agent should have already done their homework in finding support for the listing price of the home. As a professional courtesy, I ask for the Listing Agent's comps when I setup my inspection of the home….because I want to know and to avoid an appeal later and avoid delaying their closing.
ONCE REPORT IS COMPLETED AND SUBMITTED IS WHEN ALL COMMUNICATION BETWEEN THE BUYER/BORROWER/RE AGENT PROCESSES THROUGH THE LENDER TO THE APPRAISER.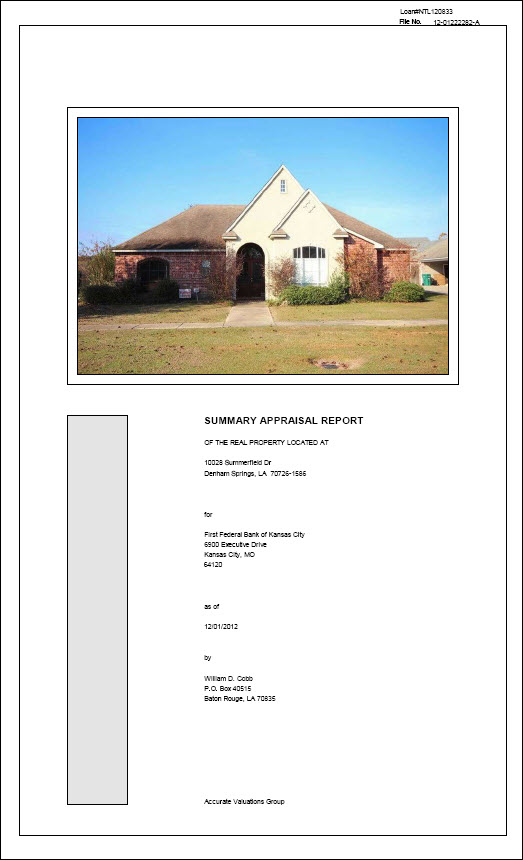 WHO RECEIVES COPY OF APPRAISAL?
THE APPRAISER'S CLIENT DOES…
Only the AMC or Appraisal Management Company who ordered appraisal for the Lender/Client and the Lender receive a copy of report, which is then forwarded to buyer 3 days before closing for review and potential appeal if necessary.
Is my understanding incorrect?
Thanks so much for your time!
Bill Cobb, Appraiser
Baton Rouge Real Estate Appraiser: Should You Build Your New Home In This Subdivision?
NOTE: My point is not to put down any particular subdivision in Greater Baton Rouge. My point is that it makes no economic sense to build a $160,000 new home in a 50 year old subdivision where the average non foreclosure home is selling for approx. $78,000 to $80,000 and average foreclosure is selling in the $40,000 range and 67% of 2012 sales were foreclosures. When you build such a home in such a subdivision, the home does not appreciate in value over time as much as if you built it in a subdivision with similar homogeneous new homes. And, the new home ends being only worth perhaps 67% of the total cost to build, +/-.
Subdivision Info & 2012 Home Sales
Average Home Is 1100sf to 1200sf
Approximately 50 Years Old
In 2012, 67% of Sales were Foreclosures
In 2012, Median Sales Price was $47,000
Non Foreclosure Sales Price Are $70,000 to $87,000
My advice is to simply ask a local real estate professional, Appraiser, if building this or that new home makes financial sense in the subdivision you want to build in.
A resource for locals in Greater Baton Rouge to help understand the real estate appraisal process and where it fits into their home valuation. Videos are by veteran Home Appraiser Bill Cobb and Accurate Valuations Group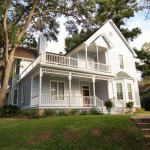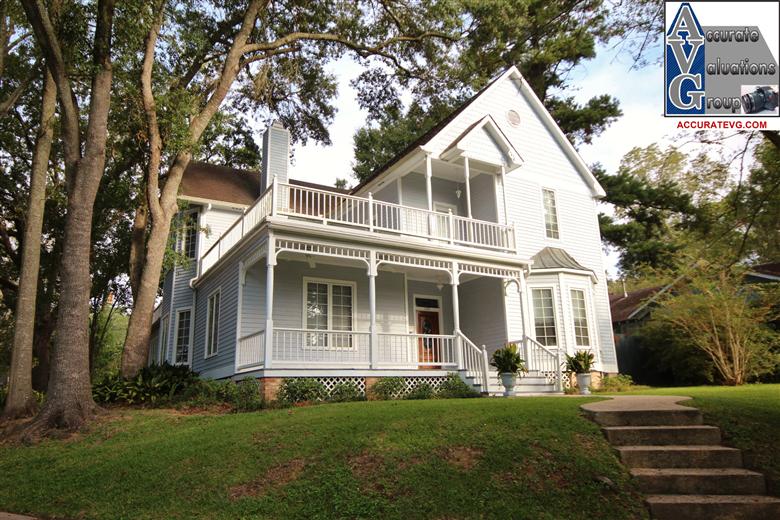 Baton Rouge Real Estate Appraisers Report On East Baton Rouge 2012 Home Sales
Inman News is reporting U.S. Existing-home sales near 5-year high on January 22, 2013
While EBRP Home Sales were better than 2009, 2010 and 2011, East Baton Rouge Parish home sales in 2012 WERE NOT above the 5 year high in 2008!
ALL housing markets are "LOCAL", which means when the media showers us with glowing news about "national housing trends", one has to ask themself, "is my local housing market performing better or below these national numbers?".
2008 4463
2009 3998
2010 3509
2011 3612
2012 4185
2008 home sales were actually better by 278 sales. Yes, 2012 EBRP home sales were better than in 2009, 2010 and 2011!
YES, there's much to be happy about with the 2012 Baton Rouge Real Estate market.
NOTE: The GBRMLS home sales numbers noted above differ from The Advocate Newspaper and one other local Real Estate Team report. These two (2) real estate links are listed below and are worth reading.
A positive note from Pat Wattam's 2012 market report is the declining supply of homes on the market.
Pat Wattam Team:
End of Year Statistics 2012 – Baton Rouge Louisiana Real Estate
www.batonrougerealestate.com1/15/13
The Greater Baton Rouge Real Estate Market really picked up steam in 2012! We saw it coming at the end of 2011 and now I have some statistics to share with you. I hope you will find this information useful and interesting.
The Advocate Newspaper – Chad Calder:
Baton Rouge metro area home sales finished last year 15 percent stronger than 2011, with local Realtors selling 7,607 homes compared to 6,604 in 2011. Dollar volume for the year was up 17 percent — $1.64 billion compared with $1.26 billion, according to figures compiled by the Greater Baton Rouge Association of Realtors.
Baton Rouge Pre-Listing Appraisals
GBRAR MLS NOTE: Based on info from the Greater Baton Rouge Association of REALTORS®\MLS for the period of 01/01/2008 to 12/31/2012. This information was extracted on 01/22/2013.
Divorcing Baton Rouge Women: Forbes Tips On Real Estate Settlement and Appraisals
Baton Rouge Divorce Home Appraiser Commentary:
On my street in 2012, there were 3 married couples that separated, 1 already divorced and 2 others are seeking a divorce. It seems divorce is on the rise. Over the 21 years that I've been a Home Appraiser, it appears to me that the spouse that knows the most about real estate during the divorce, and/or can hire the Attorney that knows the ins and outs, generally comes out ahead over the other spouse. This is worth reading and your time.
Forbes Contributor, Jeff Landers, offers tips on real estate and appraisals during a divorce with his article,
Seven Key Points Divorcing Women Need To Know About Real Estate And Real Estate Appraisals
"Negotiating a divorce property settlement depends on a fair, impartial and accurate assessment of the value of the property to be divided. But, who should determine how much the real estate is worth? It isn't something a mediator or a judge can decide. For an accurate evaluation, you'll need the expertise of a professional real estate appraiser."
Baton Rouge Real Estate: When Buying An Existing Home For A Family With 3 Or More Children, Choose 3 Full Baths Over 2.5 Baths
This video and sketch is from an actual home I appraised in 2012, location of home not provided other than to state it's located in Greater Baton Rouge.
EXISTING HOME TIP: If you can afford to, buy a 3 full bath home over only a 2.5 bathroom home. Families grow up and need more space, especially when teenage daughters begin taking over the bathroom causing hostilities between sisters and brothers.
AGING PARENTS TIP: Yes, the U.S. population is aging. The cost of a nursing home is several thousand dollars per month leaving some aging parents to simply move into your home. If your home has 3 full bathrooms, then you'll be much better equipped to handle their needs.
NEW HOME CONSTRUCTION TIP: If Building a new home and can afford to, most definitely choose a 3 bathroom floor plan over only a limiting 2.5 bath floor plan. And, the cost of simply converting a half bath into a full bath 10 years later will make your eyeballs pop out from sticker shock.
High Point Subdivision Baton Rouge Real Estate Market Statistics
Baton Rouge Housing Market Statistics completed by Bill Cobb Appraiser and High Point Home Appraisals Baton Rouge
Baton Rouge, population 228,000 (Greater Baton Rouge Area comprising 804,000 residents). Since mid 1990s, Greater Baton Rouge experienced rapid residential and commercial development. High Point location is convenient to local schools, employment and shopping. High Point was developed in in mid 1980′s with some homes built through early 1990′s. Per GBRMLS, home sizes range from 1,170sf up to 1,969sf, averaging 1,377sf.
2011 High Point Home Sales
In 2012, there have been eleven (11) home sales year to date from $139,000 up to $205,000 (for a new larger home on Jefferson Hwy), median sales price $149,900, Avg Sold Price:$110.10/sf, Avg SP/LP%:98%. Living area sizes of homes sold was from 1,207sf to 1,761sf. Sold prices per sq. ft. ranged from $98/sf to $122/sf, averaged $110/sf. The average marketing time or days on the market for these 11 sales was 98 days.
2012 High Point Home Sales
In 2012, there have been twelve (12) home sales year to date from $132,000 up to $164,500, median sales price $152,000, Avg Sold Price:$109.39/sf, Avg SP/LP%:99%. Living area sizes of homes sold was from 1,228sf to 1,489sf. Sold prices per sq. ft. ranged from $97/sf to $120/sf, averaged $107/sf. The average marketing time or days on the market for these 12 sales was 91 days.
In Summary
2011 vs 2012, the median sales price increased by $2,100 and average sold price remained close, $110.10/sf in 2011 vs $109.39 in 2012.
CHART NOTE: The chart above was created from November 2012 and only reflects 10 sales, not the 12 total sales year to date.
GBMLS NOTE: Based on information from the Greater Baton Rouge Association of REALTORS®\MLS for the period of January 1, 2011 to December 28, 2012. This information was extracted on 12/28/2012. YES, this appraiser does have the permission of GBRMLS to use the chart above Subdivision Price Trends Report.
Perkins Rowe Impact On Baton Rouge Home Prices Study
Yesterday I pinned the article, Baton Rouge Real Estate: Perkins Rowe Proving To Be Desirable Hot Spot , in which I said, The area around Perkins Rowe is enticing to me and my family. We love to spend time at CC's Coffee House, Starbucks, Barnes and Noble Book Store, California Pizza Kitchen and shopping in general. Area subdivisions home owners are hoping and seeing their home values rising because of the close location to Perkins Rowe. I've included two (2) recent article showing strong demand to be close to Perkins Rowe, a 2 acre lot purchase and the recent commercial appraisal showing a 10% increase in value over the past year.
Was it accurate to have stated that the presence of Perkins Rowe shopping and entertainment center was actually causing local subdivision home values to rise? I've completed an indepth housing study on the closest ten (10) subdivisions with enough home sales to establish a pattern of value. It's very difficult in most housing markets to extract, for certain, whether one particular amenity contributes how much of a percentage of value increase or decrease. For example, these ten subdivisions, from 2010 to 2012, could be adjusting to post Hurricane Katrina, The Mall of Louisiana favorable location, the enormous retail and restaurant presence on Siegen Lane. Certainly Perkins Rowe has a large draw to it during the weekends. And, overall in 2012 in this immediate "hot" market and GBRMLS Area 53 in general, home prices have been increasing.
1.) Wimbledon Estates: YES, values rose from $93/sf to $98/sf and partially because of two totally odd $325K and $470K home sales.
2.) Settlement At Willow Grove: YES, values rose from $185/sf to $200/sf
3.) Oak Hills Crossing: NO, sold price per sq. ft. actually declined $10/sf, only slightly because of 1 corporate relocation sale and 1 short sale.
4.) Quail Meadow and Quail Ridge: NO, sold price per sq. ft. actually declined $12/sf caused by a general correction within the incredibly steep prices, only 1 distressed sale in 2012.
5.) Windermere: YES, values rose from $130/sf to $137/sf
6.) Oak Hills Area Subdivisions (Several Different Names and Filings): YES, values rose from $108/sf to $112/sf
7.) Iberville Terrace: NO, sold price per sq. ft. actually declined and that's because in 2010, there were two very large and odd home sales in the $300′s. The average home price is in $170s.
8.) Oakridge Subdivisions: YES, values rose from $126/sf to $143/sf
9.) Greenbriar Hollow: NO, sold price per sq. ft. actually declined $4/sf
10.) Myrtle Grove Garden Homes: NO, sold price per sq. ft. actually declined $114/sf to $105/sf, BUT the median sold price rose from 2010 to 2011 and 2011 to 2012
IN SUMMARY, there were five (5) YES's and five (5) NO's to if home prices rose from 2010 in 2012. Again, it's very difficult to determine IF Perkins Rowe alone is the reason for positive market moves. While Perkins Rowe is a definite positive for this immediate market, it doesn't appear to have HUGE impact on local home values.
GBRAR MLS NOTE: Based on info from the Greater Baton Rouge Association of REALTORS®\MLS for the period of 01/01/2010 to 12/28/2012. This information was extracted on 12/28/2012. YES, this Baton Rouge Home Appraiser Housing Reporter does have the permission of GBRMLS to use the chart above Subdivision Price Trends Report!