https://www.batonrougerealestateappraisal.com// – Baton Rouge Real Estate Photos From The Field: When Will EBRP Use "Eminment Domain" And Demolish The "Blight" Called Gardere Lane Multi-Family?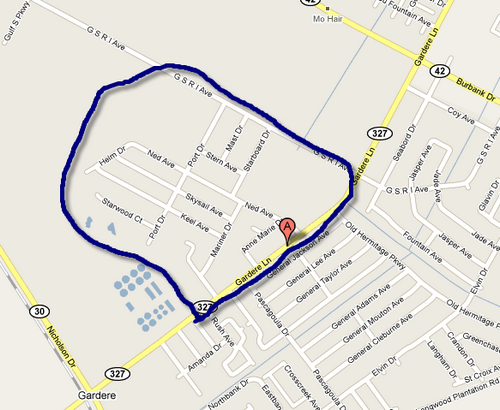 This is the section of Gardere Lane I'm describing, see map above. View the photos below in the slideshow. This section of Gardere Ln has been in this condition for close to 2 decades now. I call it "The War Zone"! Multiple units have the doors kicked in and are vandalized. It would seem that the residents of EBRP have been paying extra just to pay the EBRP Sheriff's Office for their increased patrolling of this immediate area. This very immediate area, within the map drawn boundaries, is plaqued with crime (just check WAFB.com for verification). The photos below don't even come close to showing all of the vacant and vandalized units in this immediate section. It's years past time for the leadership of EBRP to have taken action and demolished this area to begin anew.
Created with flickr slideshow.
AND, by the way, I'm not a "Big Government" believer either.   But think about it!   Who's on the tab for paying for this fraud (as described below)?   The US Tax Payer is!   That's you and me!  How long are we going to allow the investors and crooked appraisers to keep sending us the bill for their "activities"?
Recent History. In the mid 2000's, some local investors (and their repesentatives) courted the California money investors, which bought into multi-family (Duplexes and Fourplexes). A California investor would need to spend 2 to 3 times as much in California to receive the same ROI in a "stable" rental market. Many units were sold to naive California investors, some at exorbitant prices. Post Hurricane Katrina only made this situation so much worse – the fraud aspect! While there were at least 16 local immediate MLS solds of 4 plexes in the $105,000 to $147,000 range, appraisers (some from out-of-town) were brought in to appraise these for fraud purchases of $165K up to $250K and at the same time ignoring the conditions of these units. Instead of using the numerous MLS solds as comps, these appraisers used the "private" investor sales which were so exorbitant and fraudulent. Or, the appraisers went all the way over to the Staring Ln @ Perkins Rd for better comps. Some of the photos below are of a 4 plex that wasn't worth any more than perhaps $130K, but fraudulently appraised at over $240K. One can see from the Blue Tarp that the roof was not in even acceptable condition at the time of appraisal.