http://www.denhamspringsappraisers.com/ – Denham Springs Antique District Rated Third In The South By AAA Southern Traveler
The following below is directly quoted from The Livingston Parish News Mobile Section.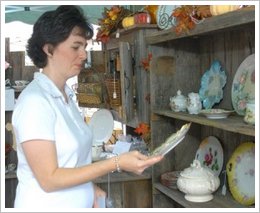 "DENHAM SPRINGS – Introducing the South's Best Antique Districts: New Orleans, Natchez and Denham Springs. That's right, Denham Springs.
These cities are rated one-two-three in a poll published this month in AAA Southern Traveler.
More than 1,300 ballots from members of the nation's largest motor travel club were used to determine what places were their favorites to visit, eat, play and shop. The bi-monthly magazine circulates to 220,000 American Automobile Association member households.
"That's amazing," said Al Bye, president of the Denham Springs Antique Merchants Association. "I'm pretty proud of that because I've been working with the association 10 years now. It was always good, but we have really banded together as merchants to make it a unique antique district. That's because we want to get people to come back. Our business depends on it."
The famous stretch of antique stores along Magazine and Royal streets in New Orleans were far and away the most popular, followed by the historic river city of Natchez in Mississippi. Yet then came small town Denham Springs, which has been quietly growing its reputation for flair in recent years, receiving similar recognition in other tourism forums.
"A very big congratulations to the Denham Antique District," Mayor Jimmy Durbin said. "A designation like this does not happen without hard work by the Antique District Merchants Association and Denham Springs Mainstreet."
Donna Jennings, the Mainstreet program director, said the recognition is part of a larger trend of improvements that will soon see upgraded paver brick sidewalks downtown – construction beginning next week – and a street park developed by volunteer organizations next to Old City Hall on Mattie Street.
"When you have a dedicated mayor and council determined to keep that area thriving, then a merchant's association and a main street committee, it works," she said."