http://www.facebook.com/brrebuzz – Congratulations To Central Greenwell Springs Housing Market, Top Performer in 2011! This is based on a comparison between Q1 2010 versus Q1 2011.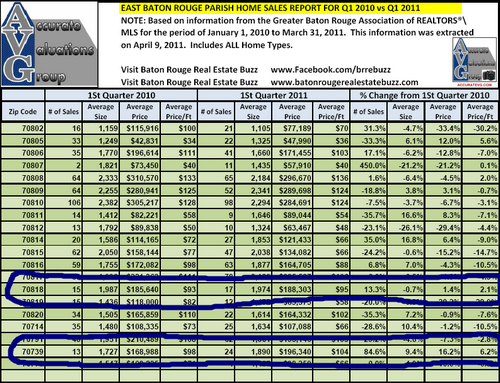 Biggest Gainer In East Baton Rouge 70739. Zip Code 70739, the Central or Greenwell Springs market, showed a +16.2% increase in Average Sales Prices AND +6.2% in Average Sales Price Per Sq. Ft.. Central is a "hot" market viewed by locals as having a favorable school district. 70739 also showed a +9.4% increase in the number of home sales.
Zip Code 70818, another Central Market, showed less stellar results with +13.3% in the number of home sales, +1.4% increase in average sales price and +2.1% increase in average sold price per sq. ft.
Author Bio:
Bill Cobb is Greater Baton Rouge's Home Appraiser frequently called upon by banks, homeowners, and savvy real estate investors to assess property values. A home appraiser with 20 years experience, Bill Cobb brings a wealth of knowledge to the table as a home appraiser.
Bill's company, Accurate Valuations Group, serves Greater Baton Rouge (East Baton Rouge Parish, West Baton Rouge Parish, Western Livingston Parish and Northern Ascension Parish).
Contact Bill Cobb and Accurate Valuations Home Appraisal Group for your next home appraisal:
Office: 225-293-1500, Cell: 225-953-0638
Fax: 1-866-663-6065
[email protected]
http://www.accuratevg.com/