http://www.gbrprelistingappraisals.com/ – What's Your Greater Baton Rouge Home Worth? Pre-Listing Appraisals Provide Answers! Order a GBR Pre-Listing Appraisal here.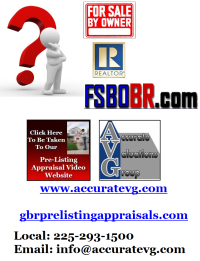 Confused About Listing Your Home? Whether Listing FSBO (For Sale By Owner) or With A Local Real Estate Agent, You Need A Pre-Listing Appraisal! WHY? Watch The Video Below! ANSWER: To Make Sure That A Real Estate Professional Measures Your Home Based on National ANSI Standards For Accurate Living Area Size and Then Prices Your Home Based On That Accurate Size.
Baton Rouge Home Sellers And Buyers Lose Money or Pay Too Much Without Listing Appraisal. Order A Pre-Listing Appraisal So You Don't Undersell Your Home. Order A Pre-Purchase Appraisal So You Don't Over Pay For A Home!
Accurate Valuations Home Appraisal Group (AVG) Serves The Greater Baton Rouge Metroplex With Boundaries North by Zachary, South by Sorrento, West by Port Allen and East by Livingston.
Contact Information:
Accurate Valuations Home Appraisal Group
P.O. Box 40515, Baton Rouge, LA 70835
Baton Rouge Office: 225.293.1500
Toll Free: 1.888.678.3544
Toll Free Fax: 1.866.663.6065
Denham Springs Office – Local #: 225.709.6013
Staff Email: [email protected]
Website: http://www.accuratevg.com/
http://www.gbrprelistingappraisals.com/
http://www.gbrprepurchasehomeappraisals.com/