Baton Rouge Home Appraisers Attend Biennial USPAP Seminar at the Holiday Inn South near Interstate 12 at Airline Highway.
USPAP stands for Uniform Standards of Professional Appraisal Practice and is a required update, including a 1 hour State Rules update, every two (2) years. It was good to reconnect with other Appraisers from around the State of Louisiana and local peer Appraisers.
Pictured below USPAP Appraisal Seminar Baton Rouge With Appraiser Instructor, Ross Shuffield, MAI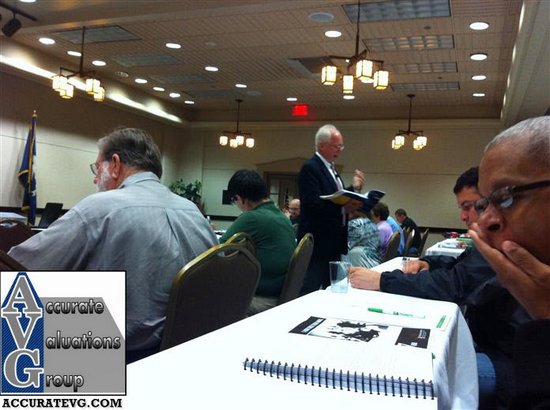 New 2012 USPAP requirements and/or methodology include:
Reporting of exposure time of a property versus just the estimated marketing time period.
Reporting to certify prior services – even if NO previous services were performed in the preceding 3 years
Revisions to DEFINITIONS of "CLIENT," "EXTRAORDINARY ASSUMPTION," AND "HYPOTHETICAL CONDITION," as well as a new definition of "EXPOSURE TIME"
Creation of a new RECORD KEEPING RULE and related edits to the Conduct Section of the ETHICS RULE
Source: http://www.affiliatedappraisersworkshop.com/2012_uspap_changes.htm
Lunch at the Holiday Inn South was especially a treat with Crawfish Etoufee'.
Home Appraisers In Baton Rouge Attend Biennial USPAP Seminar.