Parkwood Terrace Baker LA Home Prices Report 70714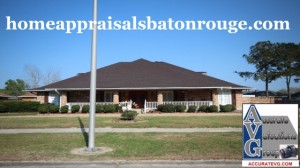 2011-2012 Sales:
4 Sales $70,000 TO $239,500
Median Sales Price: $167,000
Avg Sold Price:$63/sf
Avg SP/LP%:97%
Avg Days On Market: 40 Days
GBRAR MLS NOTE: Based on info from the Greater Baton Rouge Association of REALTORS®\MLS for the period of 01/01/2012 to 04/13/2013. This information was extracted on 04/13/2013.
Music Note: Music in this video is from the free April 2013 audiojungle release don't look back by Damian.
A resource for locals in Greater Baton Rouge to help understand the real estate appraisal process and where it fits into their home valuation. Videos are by veteran Home Appraiser Bill Cobb and Accurate Valuations Group
Tags: Baker LA, 70714, Baker LA Real Estate, Baker LA Housing, Baton Rouge Real Estate, Baton Rouge Homes, Baton Rouge Housing, East Baton Rouge, Greater Baton Rouge, Baton Rouge Realtors, Baton Rouge Real Estate Agents, Baton Rouge Homes For Sale