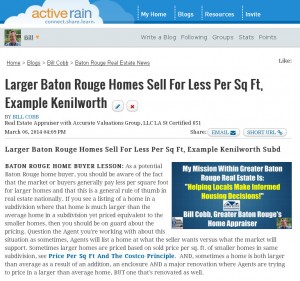 Larger Baton Rouge Homes Sell For Less Per Sq Ft, Example Kenilworth Subdivion 70808
"BATON ROUGE HOME BUYER LESSON: As a potential Baton Rouge home buyer, you should be aware of the fact that the market or buyers generally pay less per square foot for larger homes and that this is a general rule of thumb in real estate nationally. If you see a listing of a home in a subdivision where that home is much larger than the average home in a subdivision yet priced equivalent to the smaller homes, then you should be on guard about the pricing. Question the Agent you're working with about this situation as sometimes, Agents will list a home at what the seller wants versus what the market will support. Sometimes larger homes are priced based on sold price per sq. ft. of smaller homes in same subdivision, see Price Per Sq Ft And The Costco Principle. AND, sometimes a home is both larger than average as a result of an addition, an enclosure AND a major renovation where Agents are trying to price in a larger than average home, BUT one that's renovated as well…."
Originally published FIRST on ActiveRain.
For the full explanation with charting, see:
http://activerain.com/blogsview/4343316/larger-baton-rouge-homes-sell-for-less-per-sq-ft–example-kenilworth-
Have Questions about Baton Rouge Housing?
Drop Bill Cobb Appraiser A Note Here:
http://www.batonrougehousingreports.com/drop-bill-a-note/
Greater Baton Rouge Real Estate Data Note:
Based on information from Greater Baton Rouge Association of REALTORS® / MLS for the period 01/01/2012 to 03/05/2014, extracted on 03/05/2014.