http://www.fhaappraisersbatonrouge.com/ – Baker Louisiana FHA Appraisers: 2010 Housing Market Observations
There's some good news for the Baker housing market! A segment of the Baker market is now increasing in median sales price from the March 2009 period, see charting below. The parameters of the GBRAR MLS search included homes from $70,000 to $135,000, 16 years old plus, 3 bedrooms in 70714 zip code – data extracted on April 14, 2010.
Why I stated "some good news". For the home I appraising at approximately 1,300sf, there were 33 competing listings, indicating an oversupplied market. And, since April of 2008, previous 2 years, 20% of solds in MLS were REOs or foreclosures (20 REOs out of a total 102 comparable sales). Baker was one of the markets that investors took advantage of immediately after Hurricane Katrina buying low and selling very high. This resulted in a series of foreclosures within the Baker market dating back to 2007.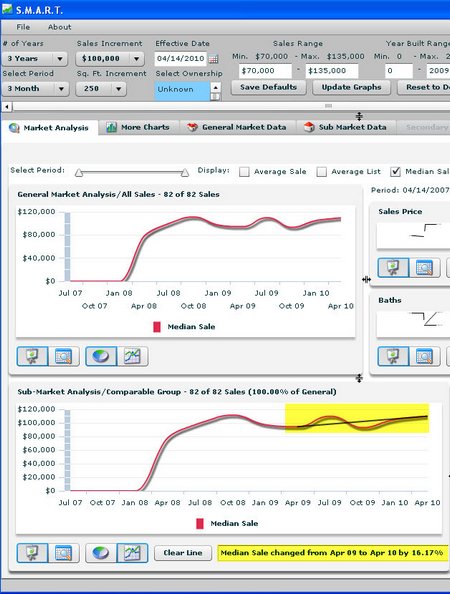 Tags: Baker Louisiana Real Estate, Baker Louisiana Real Estate Appraisers, Baker Louisiana FHA Appraisers, 70714, Baker Louisiana Homes, Baker Louisiana Housing