http://www.batonrougerealestatebuzz.com/ – Baton Rouge Real Estate Agent Tips: The Importance Of Sending Those Thank You Notes!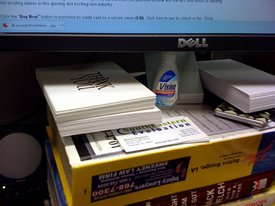 Back in early 2004, I released the "Reapptools" Home Appraiser Marketing Guide. Some of the readers of this blog purchased that guide. While the implementation HVCC has eliminated some of the marketing methods recommended in the guide, there was a section about the power of thank you notes and referral gifts. These generally included a thank you with a small very inexpensive Jim Rohn booklet on success. I received a thank you note with success type booklet recently from site sponsor, Lore DeAstra with Continental Appraisal and was reminded of the power of thank you notes.
What about that appraiser or home inspector that recently sent you a listing referral? What about that Attorney that recently sent you the listing referral? What about that family friend that referred your services to their neighbor? Did you take time to send them a thank you note? The point in the Reapptools guide was that thank you notes positively reinforce that behavior over and over again.
To help me make sure I follow through on sending thank you notes, I keep a stack within arms reach. That's why I also bought my Dymo Label Writer 400 years ago so I could print an address label in a snap!
John Jones' Tuesday Morning Coffee video today is about the power of thank you notes. John's recommendations are that they be hand-written, sent within a couple of days of the kind gesture, reference the kind gesture (thank for the listing appraisal referral) and use the words "you" and eliminate "I" and "we". Enjoy! Bill Cobb