http://www.ascensionrealestateappraisers.com/ – Don Stern: Ascension Parish Louisiana Real Estate – First Quarter 2010 Market Update
Coldwell Banker Mackey Company Realtor, Don Stern, releases the Q1 2010 Ascension Real Estate Update here! This is a very detailed update with multiple charts.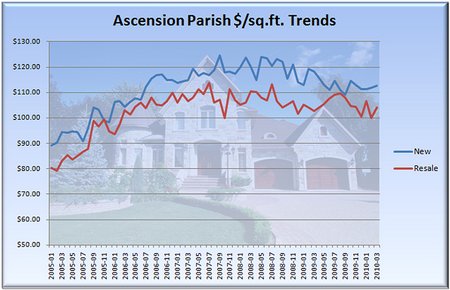 I would encourage readers to visit Don Stern Real Estate Website, view his expert content and leave a comment. Subscribe to his free newsletter. Check out the ASC Flood Maps. Check out Don Stern's Real Estate Blog on Active Rain Network!
Don makes the statement that he's not sure if the ASC market is seeing a bottom in declining prices or not and I added this comment on this topic below.
"Hi Don,
Thank you so much for this update! Points well made and your charting is so awesome!
I'm not sure upper ASC 70769 70737 is out of the woods either. On 9/1/2009, I performed an exterior drive by appraisal on a home on Ryan Ave in Seven Oaks – 2800sf built in 2001. As of 9/1/2009, the median sales price had increased +1.12% since 9/1/2008 based on competing home sales. There were 7 competing listings, including fsbobr.com listings. 99% Listing To Sales Price Ratio. 6.5 Months Supply of Competing homes on the market.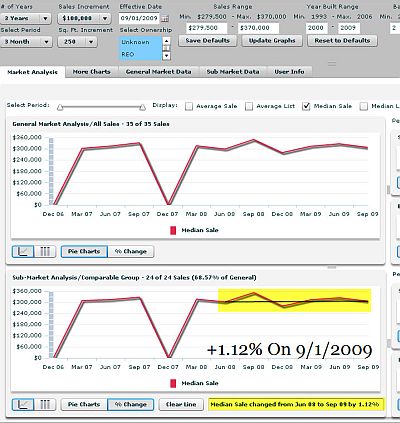 However, on 3/15/2010, same lender wanted another drive-by appraisal on the same home. This time, the competing market was much worse off. The median sales price from 3/2009 to 3/2010 had declined by -5.56%, this is based on the "submarket" or actual competing homes. There was a 6.8 months supply of competing homes and "19" competing listings. Worse yet was the 94% Listing To Sales Price Decline, a decline of 5%.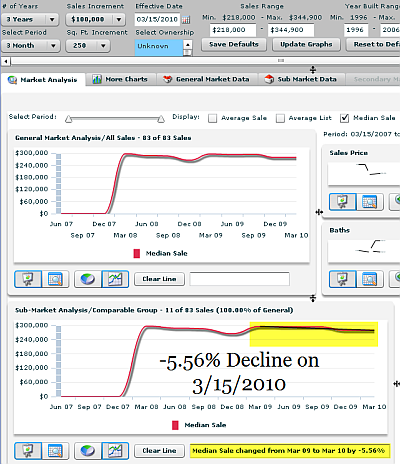 I said that to say that I don't see much improvement in ASC above $250,000. In fact, I've been performing some pre-foreclosure drive by appraisals on some of the upper end homes in ASC (above $300K) in 2009 and 2010, currently have 3 orders to do so in the pipeline. Pricing is still high in that market and I'm seeing subdivisions like Renaissance pricing falling back to more realistic levels. What happened in Acadiana of Ascension is a sign of the times – being finished out with lowered priced homes that locals can actually afford.
Great Job on the update! Bill Cobb"